Classical Music Review: New Releases


Francis Poulenc - Dialogues des Carmélites. Opera in 3 Acts. Libretto from the play by Georges Bernanos. Felicity Lott, Jocelyne Chamonin, Anne-Marie Rodde, sopranos; Régine Crespin, mezzo; Leonard Pezzino, tenor; Pierre d'Hollander, baritone; and others in a large cast. Chorus of Radio France (Alain Boulfroy, director); Orchestre National de France, Jean-Pierre Marty, conductor. Recorded live 25 April 1980, Théatre des Champs-Elysees, Paris. INA, memoire vive; 2 CDS (153'31).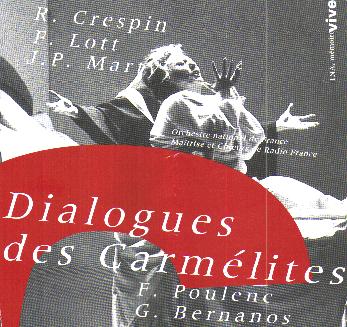 It doesn't take much to convince someone that the Catholic Church is a little bit screwy -- colorful, but screwy nonetheless. Just consider the Pope's recent apologies for the sins his church has committed over the centuries -- the Inquisition and the Holocaust are but two. Or take psychiatrist Jane Fonda badgering nun Meg Tilly to confess to the murder of her illegitimate infant in the film Agnes of God. And though these are pretty extreme cases, it's obvious that the Church isn't a normal place. Yet its rituals and stories have inspired many composers, including Francis Poulenc (1899-1963). And his second opera, Dialogues des Carmélites (1953-56) -- there are three -- certainly occupies an exalted place in this distinguished tradition. It's also the longest and most ambitious of his sacred works which include Stabat Mater (1950) and Gloria (1936). Poulenc's musical language here is direct and unashamedly human, and his theme -- the imposition of state politics on the individual during the French Revolution and the need for person principles in a secular age -- is still timely.
These conflicts are dramatized in Poulenc's unlikely heroine, Blanche de la Force, a high-strung girl from a rich family who can't cope with the world, and so decides to become a Carmelite nun. She tells her father, the Marquis, that she intends to give her life to Christ, abandoning and renouncing all so that He may restore her to grace. This assertion occurs in the very first scene which makes the musical and dramatic working out of the story completely inevitable. As a French Catholic, the composer was preoccupied with similar ideas of sin and redemption through sacrifice, and his librettist Georges Bernanos certainly was. He did, after all, write the book Le journal d'un curé des campagne (Diary of a Country Priest) which Robert Bresson (1907-2000) made into his famous film. So spiritual torment looms large here, and Poulenc provides it in spades. He also writes roles of real emotional breadth and depth, which isn't surprising when you consider his brilliance as a writer of songs whose moods range from exuberance to despair.
Dialogues has mood swings like this, too. The music he writes for Blanche sometimes has an impulsive, over the top character -- she's nervous bus also childlike and sincere, and English soprano Felicity Lott projects these varied states with ease. The part of the first Prioress, Mme de Croissy, demands a singing actress who can convey tenderness, doubt, even rage in just two scenes -- Blanche's interview with her, and her death scene which is one of the greatest in opera. Legendary mezzo Régine Crespin (though it specifies contralto in the score) virtually owned this part, but she's not on automatic pilot -- every nuance registers. The same is true of Anne-Marie Rodde's performance as Blanche's confidante, Sister Constance. Described as a "light soprano" in the libretto it's almost a soubrette role and Poulenc writes some of her music, especially in her first scene, in his best music hall style. His for the Marquis emphasizes the character's nobility, and baritone Pierre d'Hollander does it full justice. Poulenc has written immensely sympathetic music for Blanche's brother, the Chevalier, especially the ardent duet he has with his sister, which Léonard Pezzino sings perfectly. This scene is remarkable for its natural conversational tone, but so is the whole opera -- these are, after all, dialogues about important spiritual choices in moments of political and personal crisis.
Jean-Pierre Marty (1936- ), who studied with Alfred Corot, Julius Katchen, Nadia Boulanger, and Thomas Schippers, conducts a superbly committed performance. It also benefits from the fact that it's a live one, too. The only drawback is the English synopsis in the booklet, but no libretto, so I bought one. (I should also mention Poulenc's one act - one person opera La voix humaine (1958) which is also available from INA, memoire vive, in a Marty-conducted performance with soprano Jane Rhodes).
Michael McDonagh
Return to Main Page