Classical Music Review: New Releases


Philip Glass × Dracula. Performed by Kronos Quartet (David Harrington & John Sherba, violins; Hank Dutt, viola; Joan Jeanrenaud, violoncello). Nonesuch 79542-2.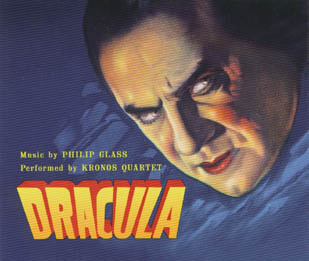 Though Philip Glass has devoted much of his career to theatre and film music the integrity of these pieces – as compositions – is seldom remarked. A case in point is this new 67 minute score, commissioned by Universal Studios Home Video, for its 1931 Tod Browning Dracula. Glass hasn't written an emotionally obvious or blatantly pictorial horror soundtrack – there are few places where it links directly with the picture – but a subtly evolving string quartet in 26 highly contrasted movements which gets under the skin of the story. It's basically a huge variation set with a decidedly psychological tone.
Glass also explores the associations the string quartet evokes. It's a cultured, largely Middle European form with a long distinguished tradition, and with Schönberg, Bartók, Beethoven, Mozart and all the rest looking over your shoulder, it had better be good. Glass does not disappoint. His timbral explorations are more daring and sometimes more extreme than in his other quartets. He also makes full use of idiomatic string devices like harmonics, trills, pizzicati, tremolandi, glissandi and drones for expressive effect. In "Dracula enters" an otherworldly aura is established by dissonant harmonics in the violins, backed by a methodically ascending and descending cello scale played pizzicato. A variant figure in viola gives way to a warm unison; the cello returns with its scales, vibrato, while the quartet varies its material. It's a portrait both chilling and seductive.
Glass dramatizes the other characters, too: Dracula's consorts get decorous music, while Lucy's goes from nostalgic calm to frenzied chromaticism. But the most delicate and passionate music goes to Renfield in each of his cues. "Excellent, Mr Renfield" is especially striking – a non-vibrato ostinato figure in viola suggestive of a hurdy-gurdy tune abuts a slow rising waltz played sostenuto by the violins, while the cello interjects a 2-note cell. The score also uses the "Dies Irae," as well as abstractions of folk fiddling, and modes suggestive of Dracula's oriental origins.
This is Kronos' 6th quartet outing with Glass – they premiered his long-dormant 1st – and they play with their customary precision and grace (Their fall concerts in San Francisco were a knockout). Definitely a keeper.
Michael McDonagh
Return to Main Page