Classical Music Review: New Releases


Michelle Makarski: Elogio per un' ombra. Giuseppe Tartini: Sonata No. 7 in a; Luigi Dallapiccola: Due Studi; Goffredo Petrassi: Elogio per un'ombra; Luciano Berio: Due Pezzi; George Rochberg: Caprice Variations Nos. 6,12,27,37; Anonymous: Lamento di Tristano. Michelle Makarski, violin; Thomas Larcher, piano (Dallapiccola;Berio). ECM New Series 1712. (64'29).
You can't just hang a picture at any height on a wall and hope that it makes sense because images should fit into a room and create some tension too. Musicians face a similar challenge: what to play and in what order. Both the visual and sound arts make decisions based on color, weight and scale, and context changes perception. American violinist Michelle Makarski has a knack for making provocative programs. Her last ECM CD, Caoine, included works by composers as disparate as Biber, Bach, Rochberg and Hartke, and this one looks at musical cross-influences between Italians and Americans -- she's of Italian-Polish extraction -- and features pieces composed over the last 700 years. But though she's taught a lot the results here are never academic and dispassionate but fully engaged. And finding unity in our post-modern predicament is in her case not just a game of mix and match.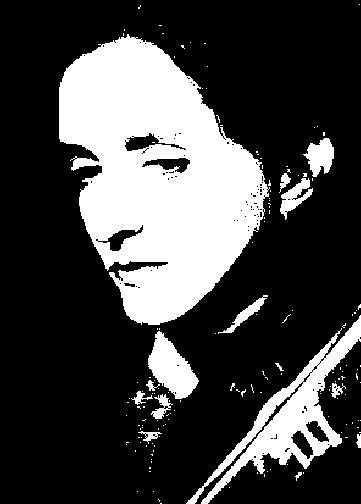 Makarski's choice of Tartini's Sonata No. 7 in a (from the composer's set of 26 piccole sonate composed in the mid-1700's) seems to emphasize the eternal affects of music -- it's lyric and dramatic, and on a technical level, based on a spontaneous-feeling series of variations, its tema being the sarabanda, that stately ground bass tune like the ever-durable La Folia which has been set by everyone from Lully to Henze . Makarski's performance brings out its classic essence -- patrician, but full of coloristic variety, with singing birdlike trills in its separate movements and variations.
Due Studi (1947) by Luigi Dallapiccola (1904-1975) -- Italy's first 12-toner -- uses a sarabanda as its first movement though this is a floating, haunted one with an especially exquisite mid section. The succeeding fanfara e fuga is brusque, violent, virtuosic, and though through-composed sounds extemporized -- there's even a hint of some of the martial music in Berg's Wozzeck. Makarski and her partner here, Austrian pianist Thomas Larcher, are completely simpatico.
The violinist is on her own in Elogio per un'ombra (1971) by Goffredo Petrassi (1904-) which he dedicated to his fellow composer Casella (1883-1947), and though American composer Stephen Hartke' notes describe it as "almost dream-like." Makarski is wide awake here and completely up to its demands which include trills (perfectly executed), glissandi, sudden modal touches, changes of texture, intonation and harmonics. This piece's technical difficulty is right up there with Ravel's Tzigane, and should be played as much as that showpiece.
Nonagenarian Elliott Carter's Riconoscenza per Goffredo Petrassi (1984) is an homage to his friend and a charming one at that ( charm isn't a word usually associated with works by this composer). But this piece has a fluidity which sounds entirely natural and completely violinistic -- with irregularly spaced phrases forming its principal argument, intercut with other gestures. Quartets like the Juilliard -- in their two recordings of Carter's output for this configuration -- have made this music seem important, but arid. Makarski makes this piece live and breathe, and she does this by applying a wide though sensitively calibrated range of color, and pinpoint intonation.
Though one would have thought that Carter was the real academic here that dubious distinction goes to Luciano Berio (1926-) whose Due Pezzi (1951) is the driest piece on this program, with all the standard Expressionist clichés -- short, sharp canonic exchanges and a general emotional vehemence. Written way before Berio "crossed over" to his more accessible style-quoting idiom it's still convincingly presented here by both violinist and pianist.
Like Berio, George Rochberg (1918-) caused a big stir when he bucked modernist dogma in his composing and said things like, "The past refuses to be erased. Unlike Boulez I will not praise amnesia." That stance seems a prophetic one, given that many composers now freely mix influences from yesterday with the multiple options available in the present (Penderecki made an aesthetic about face similar to Rochberg's -- for more on that see Tony's review on our site.) Rochberg's 51-part Caprice Variations (1971) re-imagines Paganini's 24th caprice for violin -- there are 4 here -- in a variety of ways, and the out-of-order ones chosen by Makarski work fine as a set -- reflective, delicate, melancholy -- with the closing Lamento di Tistano, by Anonymous, from 14th century Italy, functioning as pure music, memory suspended in time. The CD sound is present and remarkably lifelike.
-Michael McDonagh
Return to Main Page