Classical Music Review: New Releases


Jon Nelson (Trumpet) - Gran Calavera Electrica. Luciano Berio: Sequenza X for Trumpet and Resonance Piano; Emil Harnas 2: Trio #3 for trumpet, cello and piano; Stephn Barber: Gran Calavera Electrica; Gustavo Matamoros: RE: JON; Morton Feldman: A Very Short Trumpet Piece. Jon Nelson, trumpet; Helena Bugallo, piano; Jonathan Golove, cello; Jin Krista Kang, organ; Erik Oña, conductor (Barber); Rin Ozaki, percussion; Andrew Wendzikowski, percussion; Satoshi Takagi, percussion. Sunken Gong Records JN 0102 (76'31).
This fascinating and audacious release marks Jon Nelson's debut as a solo artist. Interestingly enough, he has chosen a program that emphasizes his skills as an ensemble performer and champion of contemporary music. Of the five pieces on this disk, two are trios for trumpet, cello, and piano in which all three voices are balanced, one features trumpet with piano, organ and three percussionists, and only two, including the brief concluding piece by Morton Feldman, are vehicles for solo trumpet.
The opening piece, Luciano Berio's Sequenza X for Trumpet and Resonance Piano (1984), is a tour-de-force of trumpet technique, built around Berio's use of certain recurring motifs -- patterns of notes, glissandi, and tremolos -- as thematic material to sustain a sonata-like structure. Essentially a work for solo trumpet since the piano only resonates sympathetically with notes played on the trumpet, the Sequenza is held together by Nelson's complete immersion in Berio's modernist idiom. It is, perhaps, the most striking achievement on this disk. Like Bach's Suites for solo cello, Berio's Sequenza's require the performer's complete concentration if they are not to devolve into a series of intriguing but incoherent sounds.
Emil Harnas's Trio (2000) was written especially for the musicians on this recording. Two fast movements surround a longer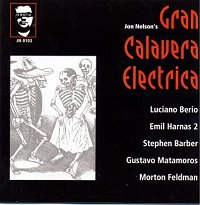 slow movement, the whole thing held together by Helena Bugallo's intense pianism. The work is full of surprising twists and turns, where passages contrapuntal interplay alternate with moments of solo virtuosity and quiet introspection. Gran Calavera Electrica, written by Stephen Barber in 1988, is more directly centered on Nelson's trumpet. It has a looser structure than the previous piece, but it's also more playful and less recherché. Inspired by a Jose Posada woodcut, the somewhat disparate sections are held together by a Latin feeling that runs through the entire work.
Gustavo Matamoros's RE: JON (1998) ostensibly returns to the trio format; however, the addition of a pre-recorded tape greatly alters the texture. In fact it is difficult, at times, to determine which sounds are part of the tape and which are performed "live". After all this sonic business, the quietude of Morton Feldman's A Very Short Trumpet Piece (1987) comes as a welcome, and lovely, relief.
Tony Gualtieri
Return to Home Page