Classical Music Review: New Releases


Music By Christos Hatzis (2 CD Set).
Disc 1: Everlasting Light. De Angelis; Everlasting Light. Laura Pudwell, Rebecca Whelan, Andrea Ludwig, Christina Stelmacovich, Daniel Taylor, Benjamin Butterfield, Russell Braun, Beverley Johnson (soloists); Elmer Isler Singers; Amadeus Chamber Singers; Lydia Adams, conductor.
Disc 2: Footprints In New Snow. Fertility Rites; Hanter's dream; footprints in new snow: a radio documentary; String Quartet No. 1 (The Awakening). Angela Atagootak, Pauline Kyak, Elisha Kilabuk and Koomoo Noveyak, Eligah Maggitak, N. Pootoogook, T. Petautassie, H. Mikigak (throat singers); Beverley Johnson, marimba; Anne Thompson, flute samples; Annalee Patipatanakoon, violin; Carol Fujino, violin; Douglas Perry, viola; David Hetherington, violoncello.
CBC Records MVCD 1156-2 (142'17).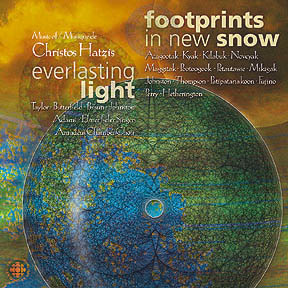 It is fitting that a composer with such a hetrodox set of influences as Christos Hatzis should choose, in his debut release, to produce parallel disks: one of his medieval-sounding choral music, the other of his explorations and manipulations of Inuit throat singing. Both of these influences stem from Hatzis's background. He was born in Greece in 1953, educated at the Eastman School in the United States, and has been a Canadian citizen since 1985.
The two choral works are starkly ritualistic, making only cursory motions towards traditional thematic development in favor of an intense and meditative spirituality. The first, De Angelis (1999), is based on a text by Hildegard von Bingen. Fragments of Hildegard's music are sung by a soprano soloist, a group of three contraltos, and the larger choir. Eventually some original music works its way into the mix, with more full-bodied harmonies; however, the overall effect is strangely static. Everlasting Light (c. 2000), a requiem of sorts, combines the opening lines of the Roman Catholic mass with the full text of the Greek Orthodox Trisagion. The Latin text is sung by the choir while the Greek text is shared by three soloists (counter-tenor, tenor, and baritone). A subtle background of marimba and drones, produced by tuned crystal glasses, complete the sonic effects. Like De Angelis, it is an emotionally moving rather than intellectually engaging work.
The second disk is given over to music inspired by and incorporating, via tape, the "throat singing" of the Inuit native to Baffin Island. This throat singing is very different from that of the Tuvan steppe. It is guttural, purely rhythmic, and normally sung in rather erotic-sounding duets by two women. It is also strangely musical and Hatzis in his settings of these recordings echoes the rhythmic patterns of the singers on marimba, strings, and sampled flute. The musical settings are subtle and often quite beautiful, but, as with the choral pieces on the first disk, they are somewhat anonymous. The most interesting piece is the 40-minute radio documentary, footprints in new snow, which provides a cultural setting for these intriguing sounds.
One gets the sense that Christos Hatzis is a composer on the verge of finding his unique voice. It is salutary to remember that both Arvo Pärt and Einojuhani Rautavaara, composers who Hatzis resembles in several ways, both found their voices rather late in their careers and after periods of experimentation. In this context, it will be interesting to hear the upcoming release on EMI with the St. Lawrence String Quartet playing Hatzis's two string quartets. Until then, this lovely pair of disks reveals a major talent in the making.
Tony Gualtieri
Return to Home Page