Classical Music Review: New Releases


Chaya Czernowin - Afatsim. Afatsim1; String Quartet2; Die Kreuzung3; Dam Sheon Hachol4; Ina5. 1SONOR (Nonet); Harvey Sollberger, conductor. 2Arditti String Quartet. 3Mayumi Miyata, u (Japanese Mouth Organ); Takashi Saito, alto saxophone; Keizo Misori, double bass. 4String Sextet; Harvey Sollberger, conductor. 5John Fonville; bass flute and pre-recorded flutes. mode 77 (68'17).
Chaya Czernowin was born in Israel in 1957 and is now a professor of composition at the University of California, San Diego. In recent years she has developed a compositional technique centered on the idea of "composite instruments." For example in the nonet Afatsim (1996) the players are grouped into four composite instruments: <viola & bass flute>, <violin & oboe>, <cello & clarinet>, and <piano, double bass & percussion>. The result sounds something like Elliott Carter at his anarchic, fragmented best; however, where Carter strove to increase the instruments' independence, Czernowin creates a "desperate polyphony" by subtly manipulating the musical material between the various groups.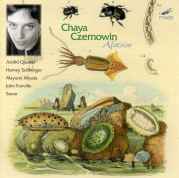 The String Quartet (1995) blends the four players into a composite instrument, as if the sixteen strings were bound onto a single bridge. The monophony is extremely complex, fragmented, and horizontally heterogeneous, yet highly structured. Material from the opening section reappears in various guises throughout the work. The trio, Die Kreuzung (1995), scored for u, alto saxophone and double bass, again treated as a composite instrument, employs similar means although the various members of the trio occasionally break away and sound individually.
The string sextet Dam Sheon Hachol (1992) takes a different approach completely. Czernowin compares this piece to "the opening of a flower." The beginning sounds like the work of Giacinto Scelsi. The instruments play what sound like microtones around a central note. As Czernowin puts it, "time is slowed down almost to a complete stop." Gradually, the notes unwind, the dynamics increase, and the piece becomes more layered. Unlike the previous works on the disk, the goal is not fragmentation but an intense continuity.
Ina (1988), a work for solo and pre-recorded flutes, is an earlier piece and one senses that the composer is still striving to find her voice. Czernowin sees this piece as a precursor to the works using composite instruments. In her later works "disparate instruments become a single composite instrument. Contrarily, in Ina ... a singular instrument is unbraided into disparate voices." The combination of flutes does produce some interesting sounds, but the composition lacks the cohesiveness of the later pieces.
With her use of the "composite instrument," Czernowin has found a fecund compositional technique. The pieces recorded here have a variety and structural rigor that belie the relatively brief span of time she has been working with this method. Performances, featuring such new music stalwarts as the Arditti Quartet, SONOS and Harvey Sollberger, are excellent.
Tony Gualtieri
Return to Main Page