Classical Music Review: New Releases


Kronos Quartet - Caravan. Alexsandra Vrebalov: Pannonia Boundless; Carlos Paredes: Canção Verdes Anos; Rahul Dev Burman: Aaj Ki Raat (with Zakir Hussain); Enrique Rangel: La Muerte Chiquita; Sapo Perapaskero: Turceasca (with Taraf de Haïdouks); Rezsö Seress: Gloomy Sunday; Terry Riley: Cortejo Fúnebre en el Monte Diablo; Aníbal Troilo: Response; Carlos Paredes: Romance No. 1; Kayhan Kalhor: Gallop of a Thousand Horses (with Kayhan Kalhor & Ziya Tabassian); Ali Jihad Racy: Ecstasy (with Ali Jihad Racy & Souhail Kaspar); Nicholas Roubanis: Misirlou Twist (with Martyn Jones). Kronos Quartet (David Herrington, violin; John Sherba, violin; Hank Dutt, viola; Jennifer Culp, cello). Nonesuch CD 79490-2 (62'20).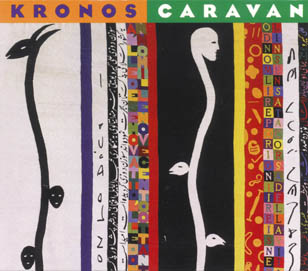 Everyone seems to want to be distracted today, and cell phones, computers and e-mail are designed to aviod direct human contact. But direct human contact with each other, as well as composers from over 50 countries and audiences all over the world is exactly what Kronos Quartet has been doing for over 25 years.
Founded in 1973 by first violinist David Harrington, they've had several personnel changes through their present line-up of Harrington, second violinist John Sherba, violist Hank Dutt, and Jennifer Culp, who replaced cellist Joan Jeanrenaud last year. And though they've preformed and recorded some of the core modernist quartets, Kronos has also commissioned and arranged over 400 others, and succeeded in making audiences respond to sometimes fiercely difficult music.
The group has endured the deaths of Harrington's yound son Adam, Dutt's lover Kevin Freeman (from AIDS), and Joan's stillborn child Mario Moruzzi. And I think that all of this life experience somehow feeds their work. Kronos' latest CD, Caravan, their 28th for Nonesuch, shows them exploring numerous musical traditions. It's also their first recorded outing with Culp.
Though Caravan can be seen as just another trendy installment in the Quartet's series of world music -- like Pieces of Africa (1992) which became a huge hit -- I think it's more useful to view it as a reflection of the lat Indian raga singer Pandit Pran Nath's saying, "Souls travel in caravans." And if music is indeed a universal language, then Kronos' spiritual journey has been to find like-souled people.
There are 12 pieces by 11 composers here, and eight have been arranged by Osvalod Golijov. Inspired by the idea of the ancient Roman province of Pannonia, which now includes parts of Austria, Croatia, Slovenia, and Hungary, the CD is also a metaphor for the porousness of musical and cultural boundaries. And though these different pieces come from many different places, they're linked by 2 things, strong pulse and firm tonal centers.
Two of the most visceral selections are "Turceasca" ("Turkish Song") by Sapo Perapeskero (birthdate unknown) and the Romanian gypsy collective Taraf de Haïdouks, and "Gallop of a Thousand Horses" by the Iranian composer Kayhan Kalhor (b. 1963). The Taraf -- two violins, two accordions, cymbalum and double bass -- and Kronos revel in Perapeskero's dramatic colors, hard-driving rhythms and shifting textures, which range from strings alone to furious scales and wheezing chords on cymbalum and accordion which sound like music for a chase scene in a silent film. Complex rhythms dominate Kalhor's piece, played here by the Quartet and the composer on komancheh (spike fiddle) and Ziya Tabassian on tombak (goblet drum).
The Lebanese Ali Jihad Racy (b. 1943) contributes a very striking, sensual work, "Ecstasy," with the composer on nay (rim-blown reed flute) and Souhail Kaspar on tar (frame-drum). Racy has used scordatura, or "mistuning," in this case lowering the pitch, for Kronos to achieve an integration of "European polyphony and Near Eastern sonorities and modal techniques." And the result? A tremendously evocative piece full of spare yet spacious musical textures, which could prove as popular with audiences as Hamza El Din's "Escalay" ("Waterwheel").
Terry Riley (b. 1935) offers a memorial piece of Harrington's son, which was the hit of Kronos' Yerba Buena Center concert last year in San Francisco. They perform the middle movement of this 3-part quartet, "Cortejo Fúnebre en el Monte Diablo," here. Despite an odd beginning section made from synth-produced samples, it's nevertheless affecting and expertly written for strings, the fruit of Riley's long and intensive work with the group over many years.
"Pannonia Boundless" by Yugoslav composer Aleksandra Vrebalov (b. 1970) is an amalgram of gypsy ideas, and it has a suitbably rough and tumble quality, with a big solo for Dutt and bent pitches galore. All of the other pieces on Caravan work perfectly well. And I should mention Bay Area resident Zakir Hussain's contribution to "Tonight is the Night" by Rahul Dev Burman (1939-1994). All of these seemingly disparate pieces make an engaging and coherent program. Souls do indeed travel in caravans.
-Michael McDonagh
Return to Main Page